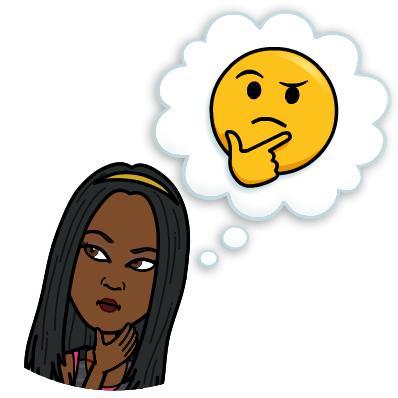 I have nothing of value to offer
I have no real success so nobody will listen to me
I am not a real writer because real writers write books that are over 100 pages long
How can I encourage someone to stay positive when I cry to my people all day every day??
I can't write about how awesome my mom is when my best friend still mourns the loss of hers
I am not deserving of good things
I don't want to write the one that will shame my mama
I don't want to write the one that will chase my husband away
I can't write about trips because I shouldn't be taking trips because I have student loans
I need a new job to be fulfilled in my career
Why bother no one reads this sh*t?
People will judge me for being honest
"I am a fraud" and more exposure, will expose that
I can't talk about my travel experience, some people can't make rent. I don't want to "brag"
I have no real talent so I will stay in my corner
Hi Everyone!
Allow me to introduce you to the real MVP of 2018, my thoughts!!!
It's no secret that I have been battling with myself since I started this blog. I have always tried to be authentic. But when you exist in a world where you will be judged by what you put out, it becomes hard to put "real" out.
Truth is:
I am not always happy-go-lucky, sometimes I want to beat somebody up!
I think God sucks sometimes
I hate Trump and hope he meets judgement soon
I like that Bill Cosby got sentenced to jail! If he is guilty, wrong is wrong, sin is sin, he got what he deserved. I don't care how long or who else has done it. A monster at a time, everyone will get what's coming to them, I pray Trump is next!
I still love Kanye West (or Yezzus or Ye or whatever he calls himself these days)
Where were all the feminist during the 2016 elections??
I don't always have all of the answers and I don't want to.
All I've ever wanted to do so speak my truth, in hopes that someone somewhere would learn, laugh, cry, THINK, BELIEVE and KEEP PUSHING without judging me. And If I could make money in the process, why the hell not? After all, ndi n'eme ya, enwe isi ole?
I don't want to censor what I put out anymore, so I am not going to. I have decided to get outta my head, do my thing and see where things take me.  I may have to take my mom off the distribution list sometimes (sorry mommybaby) and deal with the backlash/negative comments that could come with some things I put out (Jesus be the fence). But that's fine.
When you are with God and stay truthful to yourself, He will see you through as long as you don't quit.
So I won't.
On that note my sweets… We back in business! And I am not holding back!
Thank you so much for reading. Have an amazing weekend!
Love always,
The Wawa-New Yorker